Eve's Design Album Review- By Matthew Sheahan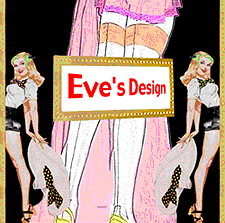 Eve's Design appears to be originally from New Jersey.  Now as a native New Yorker, I am required to despise New Jersey and all things that it births from its polluted shores.  Anyway, Eve's Design frequently plays and has its mailing address in New York City, and they've proven themselves worthy of the honors. Even though some of the guys in the band have been photographed in clothing that makes them appear either incredibly homosexual or from New Jersey, it does not matter (I'm not prejudiced against homosexuals).  They've got a foxy chick singing for them, and most importantly, they're an excellent band with music to back up their unique style.
The band's CD starts strongly with "Fruit", which has some priceless lyrics (Raggedy Anne's getting kicked in the can / 'Cause they caught her again in the back of the van) that show an inventive imagination.  "I Remember Times" sounds angrier and has a psychedelic bridge that has the band's singer, Courtney Criss, showing an impressive vocal range.  "Tall Glass" has a funky guitar and beat and features hip-hop record scratching.  It has lyrics worthy of the most hardened blues man.  This is followed by a very good cover of the Go-Go's "We Got the Beat" that has a heavier guitar and more dangerous-sounding bass, drums, and chorus. "Keep This Feeling" is a good rock standard with a sentimental mood and steady rhythm.  "If You Like..." is the most punk/heavy metal sounding song on the CD and I think it would be worth it to see them live just to see them do this song. You can feel the angry metal age with every note.  This song more than any other demonstrates Eve's Design's willingness to mix styles and genres of music for powerful sound.  "Nic Fit" has an echoing guitar riff and sounds better than similar songs being peddled by this weeks latest crop of "alternative" bands.

Eve's Design plays regularly in the New York area and you should see them and buy their music.  If they sound half as good live as they do on CD, it'll be a show worth the money.
Matt Sheahan reviews CD's and shows for www.nysounds.com