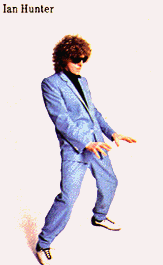 "Pleased to meet ya; I'm the teacher." Walking onstage to his own words over the PA, Ian Hunter spent two hours living up to his own legend as the Bob Dylan of glam rock. Fearlessly backsliding through his own classic cut-out repertoire and the gilded antiquarian of former band Mott the Hoople, Hunter introduced a few new quality cuts, but mostly catered to the aged crowd at this one-stop performance. "Drew Carey saved my life" was the intro to "Cleveland Rocks" (actually about Alan Freed), while Hunter dedicated "Michael Picasso" to his long-time partner-in-crime, the immortal Mick Ronson. Replaced by a younger guitarist, Ronson's presence will forever shadow much of Hunter's work, including the definitive death-disco dirge "Bastard." If you've never heard this "true love story" and its accompanying LP, You're Never Alone with a Schizophrenic, find a copy now. Also from that album, a droopy bloozer about a night in jail, "Just Another Night" provided the obligatory call-and-response audience participation segment, and staples like "Once Bitten, Twice Shy," and "All the Young Dudes" primed the hard-core for obscurities like "Irene Wilde" and "Saturday Gigs," Hunter's meditation on the death of glitter rock. When his adolescent son Jesse brought out a birthday cake to the 61-year-old Hunter, still in shades after all these years, a magical night became perfect; though some of his brilliant verse may soon become uncomfortably appropriate: "For those of you who always laugh, let this be my epitaph." -Stone, Cheap Trash NYC

Set List

"Boy"
"Central Park & West"-harmonica
"Wish I Was Your Mother"-strung out love song
"Just Another Night" in Memphis jail
"Room Upstairs" from Brain Capers
"Living in the Wrong Time"-"RR Queen"
"Hatolicee Boogie"
"Sat Gigs"
"Golden Age"
"Irene Wilde"